Why you need to monitor your IT with high resolution
A great IT infrastructure monitoring tool can ease your stress and simplify your role as an IT Manager. A great tool can also provide detailed data on the status of devices and help you resolve issues before they become recurring, critical problems.
But not all IT monitoring tools are made the same.
The only way to address issues before they become problems is by having all the information you need. You need metrics that are constantly updated so that you can see any and all inconsistencies in performance.
That's why you need to monitor your IT with high resolution.
What is high resolution monitoring?
In IT monitoring, high resolution simply means that status data is delivered to the monitoring software in very short intervals. The goal of high resolution monitoring is to provide information in as close to real-time as possible.
NiTO monitors Windows and Linux systems with a 4-second resolution, providing you with real-time visibility into your IT environment.
That brings us to the first reason high resolution monitoring matters.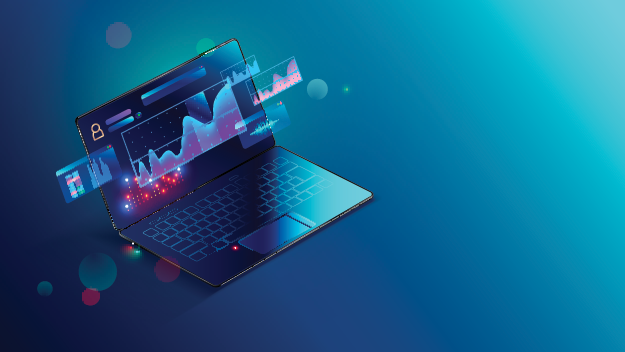 High resolution means more visibility
High resolution monitoring provides more visibility because data is being reported in short intervals. You're able to observe more data because frequent reporting reveals variation.
Here's how:
The metrics you see in many monitoring platforms are the result of average calculations. When a monitoring software is reporting metrics at a low resolution, more data is being used to calculate each average.
This is where the basic problem with average calculations shows itself in the world of IT monitoring. Averages hide variation. That's a problem because variation is exactly what we need to observe.
When you monitor at a high resolution, there is less data being reflected in each average that is reported. That's a good thing because less variation hidden.
Here's an example:
Let's say an issue occurred in your network and lasted for a total of five seconds. Now, let's say your monitoring tool runs checks once every five minutes. That short-lived issue won't appear in your metrics. Even if it did, the issue won't appear until five minutes after it occurred.
With checks running every four seconds you're able to see the five-second issue as it happens.
To illustrate this further, compare the two screenshots below.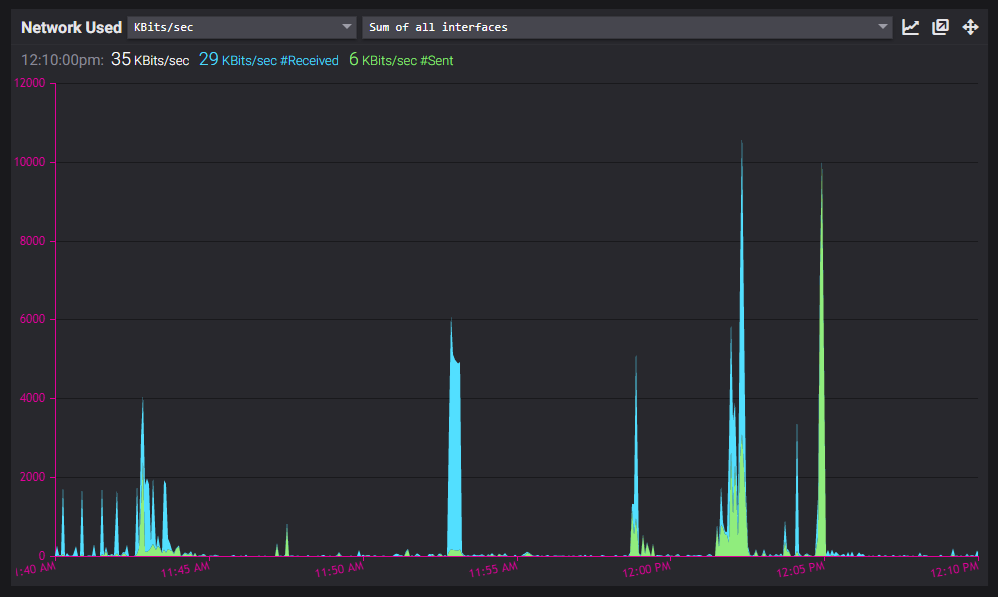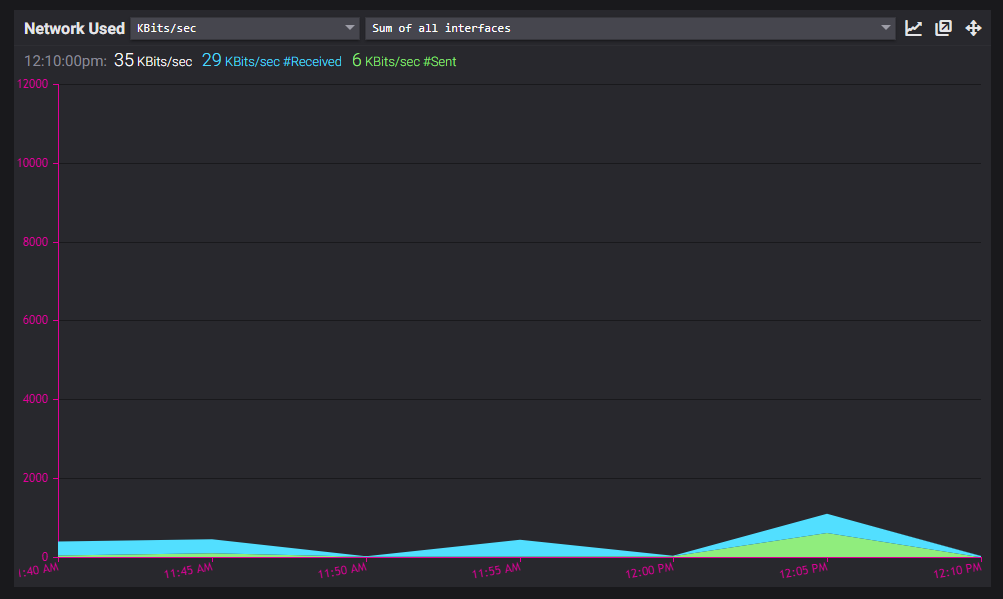 The first image shows network usage data reported every four seconds. The second image shows network usage data being reported every five minutes.
In the first graph there's a lot of variation in the data between each five minute mark. If a five second issue were to occur, it would be larger in relation to what you see normally – making it easy to see that something is wrong.
In the chart showing data being reported every five minutes there is much less variation between the data points. As we explained, that's because the average calculations are based on more data. While the chart seems to illustrate that everything is running smoothly, that may not be the case. If a five second issue were to occur it wouldn't show up in this chart.
Overall, the core benefit of increased variation is that you're able to see issues as they happen. Alerts make that even easier.
High resolution means timely alerts
With high resolution monitoring, you'll also benefit from more timely alerts.
When your monitoring platform is checking your systems and delivering data in short intervals, your alerts are notifying you of issues as soon as they happen. A four-second monitoring resolution means you can receive the alert and start investigating within a minute of the issue occurring.
High resolution means more detail
With more visibility comes more detail. As we explained, if your monitoring platform retrieves data at a low resolution you can entirely miss short-lived downtime.
With high resolution monitoring, you can focus in on the timeframe of a specific issue. It's as if you're zooming in on moments in time, allowing you to pinpoint when an issue occurred.
But data can get even more detailed.
High resolution monitoring allows for more information to be delivered overall, especially when it's agent-based (a type of monitoring known provide more detailed metrics).
When the ability to report with increased detail is coupled with a four-second resolution, you're able to dig deeper into the processes of each infrastructure element.
With more information being captured and reported, you can investigate inconsistencies down to the process – giving you the power to address issues at their source.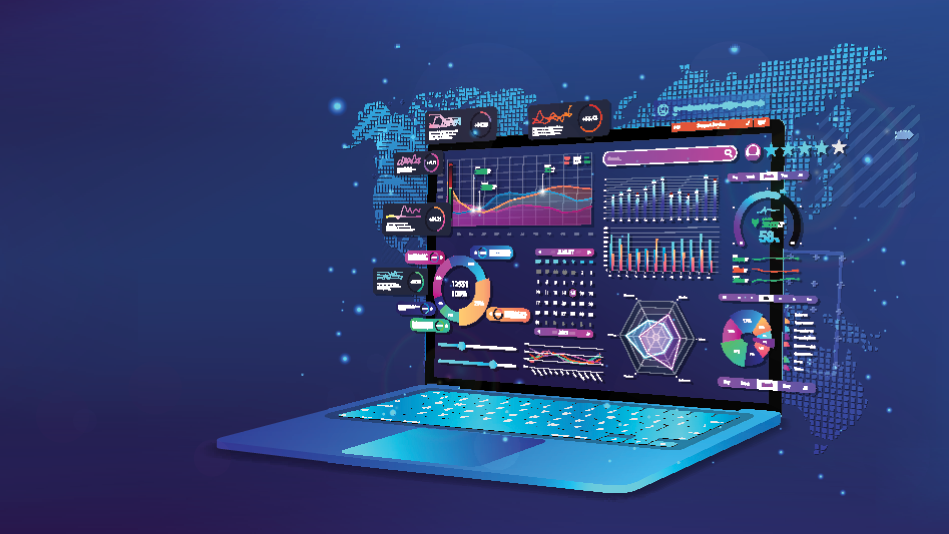 Going beyond high resolution
A great monitoring software doesn't stop at high-resolution reporting. To make sure you don't miss an occurrence, you need to retain all that data. Look for a monitoring tool that retains data beyond a couple of hours.
You should also make sure your monitoring tool can help you stay on top of issues. Set up alarms and use the activity log to help you understand how things performed when you weren't looking.
Conclusion
In all, high resolution monitoring matters because it empowers you to observe your network in as close to real-time as possible. With performance data being reported in short intervals, you won't miss spikes or lows. You can address every occurrence before it becomes detrimental to your business function.
With detailed visibility into the process of each device and 90-day data retention, NiTO's four-second monitoring resolution can help you take better care of your IT infrastructure.
Interested in learning more about NiTO? Find out everything NiTO can do for you.