Looking Around Corners with NiTO: The Critical Importance of High-Resolution OS Monitoring
If you've been in the business world for a while, you've likely come across the saying, "successful businesses can see around the corners." It's a proverb that emphasizes the value of foresight, preparedness, and adaptability in steering a business toward success. In the landscape of digital enterprises, one essential way of seeing around corners is through high-resolution operating system (OS) monitoring.
With our digital environments becoming more complex by the day, the need for close monitoring and quick reactions to issues has grown exponentially. It's no longer adequate to have monitoring that gives you data points every few minutes or, worse, hours. This is where NiTO Monitoring Services comes into play.
NiTO has been a game-changer for both Windows and Linux OS monitoring. By offering a default resolution of four seconds for each local component, service, and process, NiTO offers as close to real-time monitoring as is technically feasible. This high-resolution monitoring enables businesses to diagnose problems faster, prevent potential crises, and improve overall system performance.
But how crucial is high-resolution OS monitoring, you may ask? Here are a few key reasons:
Anticipating and Mitigating Problems
One of the most significant advantages of NiTO's high-resolution monitoring is that it enables businesses to anticipate and mitigate problems. If a particular service or process is hogging resources or behaving anomalously, NiTO's 4-second resolution will detect this issue almost instantaneously. This detection speed allows businesses to quickly intervene and resolve the issue before it can have any significant impact, thereby 'seeing around the corner.' Cool, huh?
Precision Analytics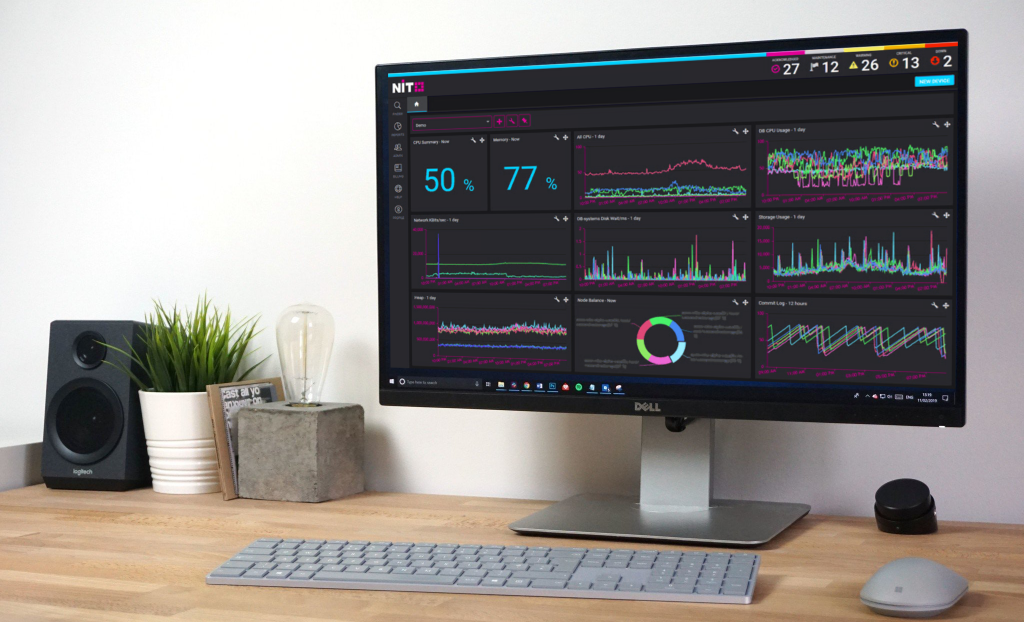 High-resolution monitoring provides a wealth of granular data, which is a treasure trove for analytics. These rich datasets offer a more accurate view of system performance and can reveal trends and patterns that would go unnoticed with lower-resolution monitoring. This level of insight can help businesses make more informed decisions and even predict future trends or issues, further solidifying their ability to 'see around the corner.'
Faster Troubleshooting
When something goes wrong in your OS, you need to diagnose and fix it quickly. With NiTO's 4-second resolution, you can identify and locate the problem in near real-time, allowing for faster troubleshooting and minimal downtime. Your business is no longer reacting, its acting!
However, high-resolution monitoring is only part of the equation. Being able to act on the information received from the monitoring is equally important. This is where NiTO's custom notifications come into play.
With NiTO, you can set up your alerts based on what matters most to you and your team. Choose email, SMS, or even phone call notifications. Want to get an SMS if a critical process suddenly stops or consumes too many resources? NiTO can do that. Need an email when a service goes offline? NiTO has you covered. You and your team can schedule what you need to know on your own terms, ensuring you're always one step ahead of potential issues. It will even wake you up!
In essence, NiTO combines high-resolution monitoring with flexible, custom notifications to give businesses the tools they need to 'see around corners.' It empowers businesses to react swiftly to issues, make informed decisions, and ultimately ensure a more robust and stable digital environment.
In a world where even a minute's downtime can have significant financial and reputational repercussions, this level of insight is invaluable. By enabling businesses to anticipate, identify, and resolve issues in near real-time, NiTO ensures that businesses can keep their systems running smoothly, their customers happy, and their reputation intact.
The role of NiTO's high-resolution OS monitoring in 'seeing around corners' in the digital business landscape cannot be understated. It is a vital component in maintaining an efficient, reliable, and successful digital enterprise.
So, in the spirit of foresight and adaptability, consider embracing NiTO's high-resolution OS monitoring and custom notifications – because the more you can see around those corners, the better equipped you'll be for success.
Don't let another 4 seconds go by without the insight and control NiTO provides. Take charge of your OS environment, keep a step ahead of potential issues, and drive your business to new heights of success.
Sign up for NiTO Monitoring Services today and revolutionize the way you 'see around the corners.' Remember, in today's fast-paced digital world, the future waits for no one.